High ground is valuable ground when you need to fend off an attack, and since the Rock of Cashel sits on a knoll above the surrounding countryside, it makes perfect sense that the Kings of Munster made it their 5th-century home. What few remnants remain from that time have mostly been dug from the ground, and today what draws visitors to the Rock of Cashel are the impressive religious monuments—most notably the Romanesque Cormec's Chapel that was built in the late 12th century.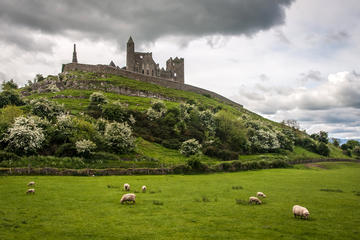 Unlike some of Ireland's other Romanesque churches—which can have very simple structures—Cormec's Chapel features complex arches and amazingly intricate designs. On the chapel's impressively preserved interior, a sarcophagus was uncovered that could possibly contain the body of Cormec himself, although more impressive than the ancient tomb are the Romanesque frescoes which are believed to be the oldest wall paintings in Ireland.
Outside the church, in the surrounding graveyard, classic Celtic high crosses dot the grassy landscape and a round tower built in 1101 rises high above the fields. Beneath the entrance, at the Hall of the Vicars Choral, a small museum highlights pieces that have been excavated from the knoll, and even if you aren't devoutly religious, there's no denying the powerful feelings that are found on this sacred mound.
Click here for: